Hey people, do you miss me? Haha just joking.
Oke oke, gue sudah menghilang dari peredaran. Beberapa temen gue udah berkali-kali ngomong: "Thi, update blog kek!" bla bla bla. Tapi sumpah, gue malesnya ga ketolongan. Tapi sekarang gue bertekad nyampah lagi di blog ini. Udah terlanjur banyak sampah disini, jadi ga asik kan kalo gue berhenti nyampah? :D
Anywayyyy, quick updates!
Gue, nyokap, dan bokap, pergi liburan ke Singapore beberapa waktu yang lalu (ya, meninggalkan 2 adek gue dirumah). Thank God. I need holiday.
I turned 17! Yes yes, my birthday was on 18th February. I got a laptop from my parent (something that I've been waiting for since FOREVER) and got a surprise from Abie and my friends. Overall, it's my best birthday so far :)
Stressed! School is effin hectic. Ulangan, PR, tugas, dan segala macemnya. Belom lagi sekolah gue mau ngadain event yang (Insya Allah) bisa dibilang cukup gede dan gue disini sebagai salah satu orang yang harus bertanggung jawab. Argh. I don't know how I could handle this. Wish me luck!
My relationship with him..............is not good. I just can say that.
Got a chance to be a photographer on Provoke!'s Student Edition last month :P
There was some mistakes from the profile. Pertama, gue sekolah di SMAN 2 Tangerang Selatan, bukan Tangerang doang. Hehe. Kedua, nggak penting sih yang ini, tapi nick name gue Thia, bukan Tia. Yes, with a 'H'
And......random photos :)
Had a small birthday party with my family and some friends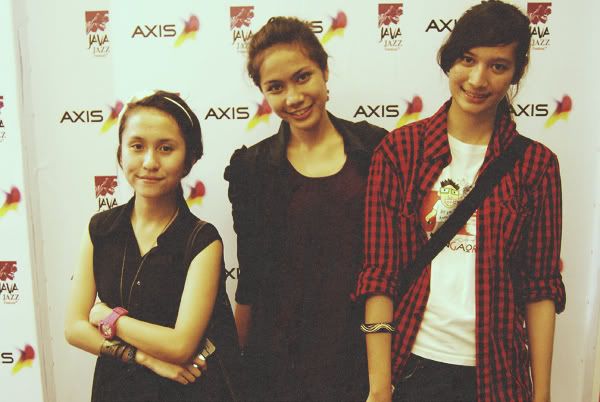 Attended Java Jazz Festival 2010. Didn't really enjoy this year's JJF since the place was TOO big and TOO crowded! As I got older, I prefer to be in some quite places than the crowded one.